Product Description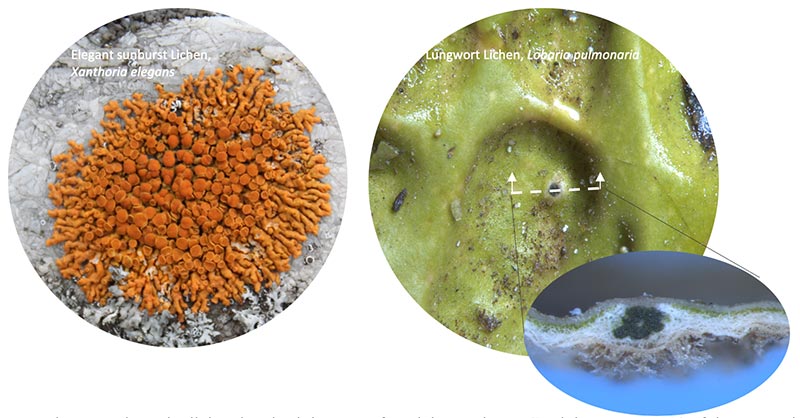 An everyday organism, the lichen inspired the name for Lichen Labs LLC. Lichens cover 8% of the terrestrial surface of the earth on rocks, trees, the forest floor, and even on this tombstone in Virginia, Minnesota (above Left). It was used as a model for the company logo. They have anchors but no roots and get their nourishment through the air.  Lichens can also come back to life after years, sometimes decades, without water
Lichens are really fungi and algae or cyanobacteria living together in the same body. The fungus provides the home, and the algae and or cyanobacteria make the food.  A slice was taken of this green lungwort lichen, from a tree on Vancouver Is. Canada, to Look inside (above Right).  The algae are in the green layer under the protective waxy outer layer.  The very dark green dot is cyanobacteria, another organism that does photosynthesis for food.
After looking under a microscope at an orange lichen growing on a twig in the mountains of Montana, shiny areas were noticed around a rim of an apothecia structure.
After further study in an electron microscope, that shiny area of the lichen was found to be almost entirely made of tin (Sn)! It turns out lichen are also miners and can absorb and concentrate minerals from the air. Lichens are a symbiotic relationship between fungus and algae, much like the collaborative nature of Lichen Labs.  Some lichens can live for 4,000 years.  Now that's a long-term relationship!
References:
Field guide: "Lichens of the North Woods" by Joe Walewski, 2007
Bible: "Lichens of North America" by Irwin M. Brodo, Sylvia Duran Sharnoff and Stephen Sharnoff, 2001