Product Description
Hundreds of millions of birds die each year from collisions with glass on buildings.  Biomimetic solutions are being employed to deal with this crisis.  https://asknature.org/idea/ornilux/#.XoIArtNKiuM
This red-eyed vireo was an unfortunate victim.  I had been curious about the bird claw mechanism.  The claw's natural position is closed, so it may perch without using energy to hold itself in place.  I took the opportunity to take a closer look and investigate this mechanism.
https://www.theatlantic.com/technology/archive/2013/12/why-birds-can-sleep-on-branches-and-not-fall-off/281969/ "The bird's foot closes and grasps automatically as the ankle and knee joints are bent," we read. "This grasp cannot be released until the limb is straightened again."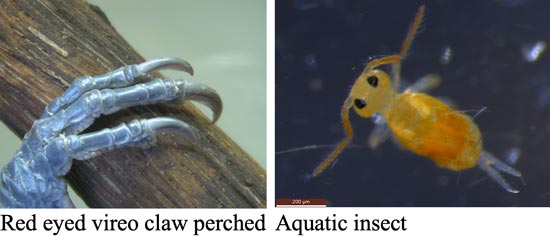 A sampling of aquatic insects was captured in a spring from Rice Creek in Fridley, Minnesota.  They were examined back at the lab using the Leica stereomicroscope.  The specimens were viewed in a petri dish with creek water.